Four-channel amplified speaker system to maximze your gaming experience on EAX and Microsoft DirectSound 3D supported games
Enjoy surround-sound gaming with 6 watts RMS per channel and 17 watts RMS from subwoofer
Engineered to maximize four-channel audio in games or music on Sound Blaster® audio cards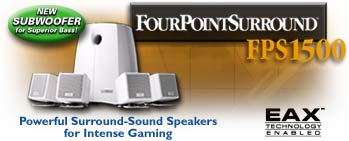 Based on Cambridge SoundWorks'® award-winning multi-channel speaker lineup, the FourPointSurround™ FPS1500 speaker system designed by the makers of Sound Blaster® to maximize your gaming with immersive surround sound and explosive bass.

This five-piece speaker system delivers the highest quality sound in its price class. With four compact amplified speakers and a newly designed powered subwoofer, the FourPointSurround™ FPS1500 delivers the most realistic gaming experience on EAX™ and Microsoft DirectSound®3D supported games. Hear helicopters hovering around you and speedboats accelerating past you with dynamic realism.

Combine the FourPointSurround™ FPS1500 with any Sound Blaster® Live!™ sound card for the ultimate EAX experience.